Saturday, March 13, 2010
The breed is the smallest of all dogs and has a long history in Mexico, named after the state of Chihuahua. But if the dogs have some sort of mystical genetic memory, surely they would turn up their noses at a bastardization of their native cuisine! In the name of science, we decided to find out: Will a Chihuahua actually eat Taco Bell?
Exhibit A: Sammy, resident of Brooklyn and bona fide Chihuahua.
Exhibit B: "Food" procured from Taco Bell. While purchasing the samples for this experiment, we told the counterwoman we couldn't eat onions, because the vegetable is bad for dogs. She looked at us like we were insane and assured us that no onion came within miles of the stuff.
Left to right we have a crunchy ground beef taco; a chalupa supreme with steak; and nachos supreme, topped with beans, ground beef, cheese, and sour cream.
We arranged the food and put Sammy down in front of it, equidistant from all three dishes to see which fake Mexican snack he would prefer, hypothesizing that he would go for the chalupa, on the strength of the steak.
Sammy looked totally freaked out. He circled the food dubiously several times, as though he didn't want to get too close. "What the hell is this stuff?" he seemed to be thinking. It was a far cry from "Yo quiero Taco Bell."
But then he inched closer, and stuck his muzzle into the nachos. Chomp-chomp-chomp, slowly at first but then with greater enthusiasm. He paused for a moment to consider the chalupa, but didn't seem particularly interested in eating it. As for the taco, it seems that Sammy has his standards, and crunchy beef tacos do not even merit a sniff.
Round one goes to the Chihuahua-endorsed nachos supreme.
Sammy's regular treats are dried liver bits. We wondered just how much he liked those nachos supreme -- would he rather eat Taco Bell than his beloved liver cookies?
Ah, yes. Once exposed to the Taco Bell, Sammy was like an addict on the make, spurning his healthier treats for a few more bites of the nachos, until it was removed from under his nose.
Conclusion: Yes, a Chihuahua will eat Taco Bell. And Chihuahuas prefer nachos.
Thursday, March 11, 2010
General Appearance
A toy dog, fine-boned, elegant and graceful. The distinct varieties are born in the same litter. The Hairless with hair only on the head, tail and feet and the Powderpuff, completely covered with hair. The breed serves as a loving companion, playful and entertaining.
Size, Proportion, Substance
Size - Ideally 11 to 13 inches. However, dogs that are slightly larger or smaller may be given full consideration. Proportion – rectangular-proportioned to allow for freedom of movement. Body length from withers to base of tail is slightly longer than the height at the withers. Substance – Fine-boned and slender but not so refined as to appear breakable or alternatively, not a robust, heavy structure.
Head
Expression - Alert and intense. Eyes - Almond-shaped, set wide apart. Dark-colored dogs have dark-colored eyes, and lighter-colored dogs may have lighter-colored eyes. Eye rims match the coloring of the dog. Ears - Uncropped large and erect, placed so that the base of the ear is level with the outside corner of the eye. Skull - The skull is arched gently over the occiput from ear to ear. Distance from occiput to stop equal to distance from stop to tip of nose. The head is wedge-shaped viewed from above and the side. Stop - Slight but distinct. Muzzle - Cheeks taper cleanly into the muzzle. Nose - Dark in dark-colored dogs; may be lighter in lighter-colored dogs. Pigment is solid. Lips - Lips are clean and tight. Bite - Scissors or level in both varieties. Missing teeth in the Powderpuff are to be faulted. The Hairless variety is not to be penalized for absence of full dentition.
Neck, Topline, Body
Neck - Neck is lean and clean, slightly arched from the withers to the base of the skull and carried high. Topline - Level to slightly sloping croup. Body - Brisket extends to the elbow. Breastbone is not prominent. Ribs are well developed. The depth of the chest tapers to a moderate tuck-up at the flanks. Light in loin. Tail - Tail is slender and tapers to a curve. It is long enough to reach the hock. When dog is in motion, the tail is carried gaily and may be carried slightly forward over the back. At rest the tail is down with a slight curve upward at the end resembling a sickle. In the Hairless variety, two-thirds of the end of the tail is covered by long, flowing feathering referred to as a plume. The Powderpuff variety's tail is completely covered with hair.
Forequarters

Angulation - Layback of shoulders is 45 degrees to point of shoulder allowing for good reach. Shoulders - Clean and narrow. Elbows - Close to body. Legs - Long, slender and straight. Pasterns - Upright, fine and strong. Dewclaws may be removed. Feet - Hare foot, narrow with elongated toes. Nails are trimmed to moderate length.
Hindquarters

Angulation - Stifle moderately angulated. From hock joint to ground perpendicular. Dewclaws may be removed. Feet - Same as forequarters.
Coat
The Hairless variety has hair on certain portions of the body: the head (called a crest), the tail (called a plume) and the feet from the toes to the front pasterns and rear hock joints (called socks). The texture of all hair is soft and silky, flowing to any length. Placement of hair is not as important as overall type. Areas that have hair usually taper off slightly. Wherever the body is hairless, the skin is soft and smooth. Head Crest begins at the stop and tapers off between the base of the skull and the back of the neck. Hair on the ears and face is permitted on the Hairless and may be trimmed for neatness in both varieties. Tail Plume is described under Tail. The Powderpuff variety is completely covered with a double soft and silky coat. Close examination reveals long thin guard hairs over the short silky undercoat. The coat is straight, of moderate density and length. Excessively heavy, kinky or curly coat is to be penalized. Grooming is minimal-consisting of presenting a clean and neat appearance.
Color
Any color or combination of colors.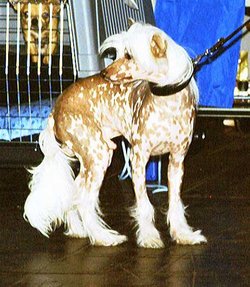 Gait
Lively, agile and smooth without being stilted or hackneyed. Comes and goes at a trot moving in a straight line.
Temperament
Gay and alert.
Approved June 12, 1990
Effective April 1, 1991
General Appearance
The Cavalier King Charles Spaniel is an active, graceful, well-balanced toy spaniel, very gay and free in action; fearless and sporting in character, yet at the same time gentle and affectionate. It is this typical gay temperament, combined with true elegance and royal appearance which are of paramount importance in the breed. Natural appearance with no trimming, sculpting or artificial alteration is essential to breed type.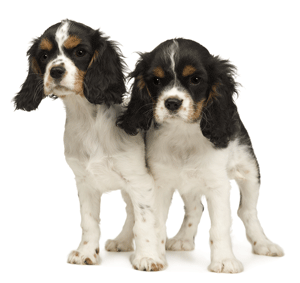 Size, Proportion, Substance
Size - Height 12 to 13 inches at the withers; weight proportionate to height, between 13 and 18 pounds. A small, well balanced dog within these weights is desirable, but these are ideal heights and weights and slight variations are permissible. Proportion - The body approaches squareness, yet if measured from point of shoulder to point of buttock, is slightly longer than the height at the withers. The height from the withers to the elbow is approximately equal to the height from the elbow to the ground. Substance - Bone moderate in proportion to size. Weedy and coarse specimens are to be equally penalized.
Head
Proportionate to size of dog, appearing neither too large nor too small for the body. Expression - The sweet, gentle, melting expression is an important breed characteristic. Eyes - Large, round, but not prominent and set well apart; color a warm, very dark brown; giving a lustrous, limpid look. Rims dark. There should be cushioning under the eyes which contributes to the soft expression. Faults - small, almond-shaped, prominent, or light eyes; white surrounding ring. Ears - Set high, but not close, on top of the head. Leather long with plenty of feathering and wide enough so that when the dog is alert, the ears fan slightly forward to frame the face. Skull - Slightly rounded, but without dome or peak; it should appear flat because of the high placement of the ears. Stop is moderate, neither filled nor deep. Muzzle - Full muzzle slightly tapered. Length from base of stop to tip of nose about 1½ inches. Face well filled below eyes. Any tendency towards snipiness undesirable. Nose pigment uniformly black without flesh marks and nostrils well developed. Lips well developed but not pendulous giving a clean finish. Faults - Sharp or pointed muzzles. Bite - A perfect, regular and complete scissors bite is preferred, i.e. the upper teeth closely overlapping the lower teeth and set square into the jaws. Faults - undershot bite, weak or crooked teeth, crooked jaws.
Neck, Topline, Body
Neck - Fairly long, without throatiness, well enough muscled to form a slight arch at the crest. Set smoothly into nicely sloping shoulders to give an elegant look. Topline - Level both when moving and standing. Body - Short-coupled with ribs well spring but not barrelled. Chest moderately deep, extending to elbows allowing ample heart room. Slightly less body at the flank than at the last rib, but with no tucked-up appearance. Tail - Well set on, carried happily but never much above the level of the back, and in constant characteristic motion when the dog is in action. Docking is optional. If docked, no more than one third to be removed.
Forequarters
Shoulders well laid back. Forelegs straight and well under the dog with elbows close to the sides. Pasterns strong and feet compact with well-cushioned pads. Dewclaws may be removed.
Hindquarters
The hindquarters construction should come down from a good broad pelvis, moderately muscled; stifles well turned and hocks well let down. The hindlegs when viewed from the rear should parallel each other from hock to heel. Faults - Cow or sickle hocks.
Coat
Of moderate length, silky, free from curl. Slight wave permissible. Feathering on ears, chest, legs and tail should be long, and the feathering on the feet is a feature of the breed. No trimming of the dog is permitted. Specimens where the coat has been altered by trimming, clipping, or by artificial means shall be so severly penalized as to be effectively eliminated from competition. Hair growing between the pads on the underside of the feet may be trimmed.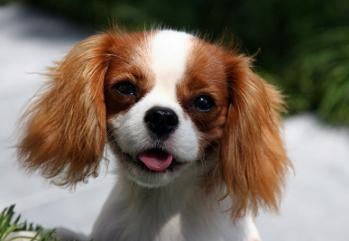 Color
Blenheim - Rich chestnut markings well broken up on a clear, pearly white ground. The ears must be chestnut and the color evenly spaced on the head and surrounding both eyes, with a white blaze between the eyes and ears, in the center of which may be the lozenge or "Blenheim spot." The lozenge is a unique and desirable, though not essential, characteristic of the Blenheim. Tricolor - Jet black markings well broken up on a clear, pearly white ground. The ears must be black and the color evenly spaced on the head and surrounding both eyes, with a white blaze between the eyes. Rich tan markings over the eyes, on cheeks, inside ears and on underside of tail. Ruby - Whole-colored rich red. Black and Tan - Jet black with rich, bright tan markings over eyes, on cheeks, inside ears, on chest, legs, and on underside of tail. Faults - Heavy ticking on Blenheims or Tricolors, white marks on Rubies or Black and Tans.
Gait
Free moving and elegant in action, with good reach in front and sound, driving rear action. When viewed from the side, the movement exhibits a good length of stride, and viewed from front and rear it is straight and true, resulting from straight-boned fronts and properly made and muscled hindquarters.
Temperament
Gay, friendly, non-aggressive with no tendency towards nervousness or shyness. Bad temper, shyness, and meanness are not to be tolerated and are to be severely penalized as to effectively remove the specimen from competition.
Approved Date: January 10, 1995
Effective Date: April 30, 1995
Tuesday, March 9, 2010
General Appearance
Should be small, active and alert. The outline should give a well balanced appearance, slightly longer in body than the height at withers. Fault Coarseness of type.
Size, Proportion, Substance
Size Height about 10 inches. Body slightly longer from the point of shoulder to root of tail than the height at withers. Weight 9-15 pounds being ideal.
Head
Small in proportion to body and proudly carried, giving an impression of quality. Masculine in dogs but free from coarseness. Eyes dark brown in color, oval in shape, bright and expressive, of medium size set fairly well apart but forward looking, giving an apelike expression. Eye rims black. Faults--Large full eyes; light eyes; mean expression. Ears medium size, pendant, well feathered in the adult and set fairly high. They may have a slight lift from the skull, but should not fly. Large, heavy, low set ears are not typical. Skull slightly domed, moderate width and length. Faults--Very domed or flat wide skull. Stop slight, but defined. Medium length of muzzle, blunt with cushioning, free from wrinkle. The chin should show some depth and width. Faults--Accentuated stop; long, plain down face, without stop; broad flat muzzle; pointed, weak or wrinkled muzzle. Black nose preferred. Faults Liver or putty-colored pigmentation. Mouth ideally slightly undershot, the upper incisors fitting neatly inside and touching the lower incisors. Teeth should be evenly placed and the lower jaw wide between the canine tusks. Full dentition desired. A level mouth is permissible, providing there is sufficient width and depth of chin to preserve the blunt appearance of the muzzle. Teeth must not show when mouth is closed. Faults--Overshot mouth; protruding tongue.
Neck, Topline, Body
Neck moderately short, strong and well set on. Level back. Well ribbed with good depth. Tail set high, richly plumed and carried in a gay curl over the back when moving. Should not be penalized for dropping tail when standing.
Forequarters
Shoulder well placed. The bones of the forelegs slightly bowed but firm at shoulder. Moderate bone. Faults--Very bowed or loose front. Dewclaws may be removed. Feet hare-footed, small and neat. Fault--Cat feet.
Hindquarters
Well made and strong. Stifle well developed, showing moderate angulation. Hocks well let down and straight when viewed from behind. Faults--Straight stifle; cow hocks. Dewclaws may be removed. Feet as in front.
Coat
Double coat, silky in texture, smooth on face and front of legs, of moderate length on body, but lying rather flat. Ears and back of forelegs nicely feathered, tail and buttocks well furnished with longer hair. Neck covered with a mane or "shawl" of longer hair which is more pronounced in dogs than bitches. Feathering between toes often extending beyond the feet. Should not be over-coated and bitches tend to carry less coat and mane than dogs.
Presentation--In the show ring it is essential the Tibetan Spaniel be presented in an unaltered condition with the coat lying naturally with no teasing, parting or stylizing of the hair. Specimens where the coat has been altered by trimming, clipping, or by artificial means shall be so severely penalized as to be effectively eliminated from competition. Dogs with such a long coat that there is no rectangle of daylight showing beneath, or so profuse that it obstructs the natural outline, are to be severely penalized. Whiskers are not to be removed. Hair growing between the pads on the underside of the feet may be trimmed for safety and cleanliness.
Color
All colors, and mixtures of colors allowed. Feet--White markings allowed.
Gait
Quick moving, straight, free, positive.
Temperament
Gay and assertive, highly intelligent, aloof with strangers. Fault--Nervousness.
Approved May 10, 1983
Reformatted February 7, 1989