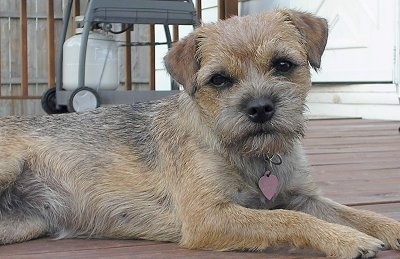 A Border Terrier is a small, rough-coated breed of dog of the terrier group. Originally bred as fox and vermin hunters, Border Terriers share ancestry with Dandie Dinmont Terriers and Bedlington Terriers.
Though the breed is much older, the Border Terrier was officially recognized by the The Kennel Club in Great Britain in 1920, and by the American Kennel Club (AKC) in 1930.
In 2006, the Border Terrier ranked 81st in number of registrations by the AKC , while it ranked 10th in the United Kingdom .
In 2008, the Border Terrier ranked 8th in number of registrations by the UK Kennel Club.

Appearance

Identifiable by their otter-shaped heads, Border Terriers have a broad skull and short, strong muzzle with a scissors bite. The V-shaped ears are on the sides of the head and fall towards the cheeks. Common coat colors are grizzle-and-tan, blue-and-tan, red or wheaten. Whiskers are few and short. The tail is naturally moderately short, thick at the base and tapering.
Narrow-bodied and well-proportioned, males stand 13 to 16 in (33 to 41 cm) at the shoulder, and weigh 13 to 15.5 lb (5.9 to 7.0 kg); females 11 to 14 in (28 to 36 cm) and 11.5 to 14 pounds (5.2 to 6.4 kg).
The Border Terrier has a double coat consisting of a short, dense, soft undercoat and harsh, wiry weather and dirt resistant, close-lying outer coat with no curl or wave. This coat usually requires hand stripping twice a year to remove dead hair. It then takes about eight weeks for the top coat to come back in. For some dogs, weekly brushing will suffice.

Temperament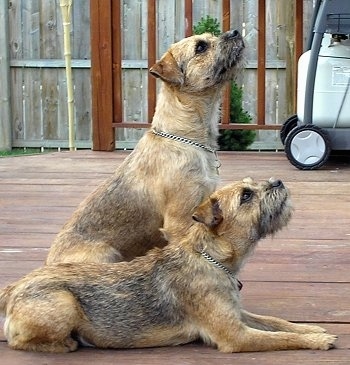 Highly Intelligent, even tempered but somewhat confrontational, stubborn & occasionally aggressive.
Border Terriers generally get along well with other dogs.
Borders do well in task-oriented activities and have a surprising ability to jump high and run fast given the size of their legs. The breed has excelled in agility training, but they are quicker to learn jumps and see-saws than weaving poles. They take training for tasks very well, but appear less tractable if being taught mere tricks.
They are intelligent and eager to please, but they retain the capacity for independent thinking and initiative that were bred into them for working rats and fox underground. Their love of people and even temperament make them fine therapy dogs, especially for children and the elderly, and they are occasionally used to aid the blind or deaf. From a young age they should be trained on command.
Borders can adapt to different environments and situations well, and are able to deal with temporary change well.
They will get along well with cats they have been raised with, but may chase other cats and small animals such as mice, rabbits, squirrels, rats, and guinea pigs.
Borders love to sit and watch what is going on. Walks with Borders will often involve them sitting and lying in the grass to observe the environment around them. They can be stubborn when they are tired and often require short breaks to sit and observe during long walks, it can be difficult to get them moving again!
Borders have a high pain threshold.

Health

Borders are a generally hardy breed, though there are certain genetic health problems associated with them, including:
* Hip dysplasia
* Perthes disease
* Various heart defects
* Juvenile cataracts
* Progressive retinal atrophy
* Seizures
* Canine Epileptoid Cramping Syndrome (CECS)
Border Terriers are also known to be sensitive to anaesthetics and slow to induce.
Due to their instinct to kill and consume smaller animals, Border Terriers often destroy, and sometimes eat, toys that are insufficiently robust. Indigestion resulting from eating a toy can cause the appearance of illness. Typical symptoms include lethargy, unwillingness to play, a generally 'unhappy' appearance, lack of reaction to affection, and inability or unwillingness to sleep. These symptoms are generally very noticeable, however, they are also present just prior to Border Terrier bitches being on heat. They are strong-willed, very lively, and also like running.

Earthdog trials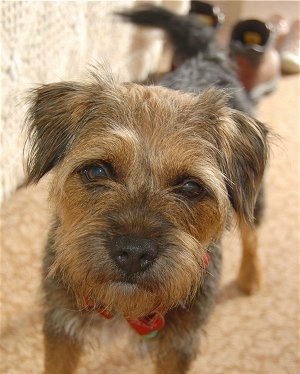 Border Terriers have earned more American Kennel Club (AKC) Earthdog titles than any other terrier. An AKC earthdog test is not true hunting, but an artificial, non-competitive, exercise in which terriers enter 9 in (23 cm) wide smooth wooden tunnels, buried under-ground, with one or more turns in order to bark or scratch at caged rats that are safely housed behind wooden bars. The tests are conducted to determine that instinctive traits are preserved and developed, as the breed originators intended for the dogs to their work. While earthdog tests are not a close approximation of hunting, they are popular in the U.S. and in some European countries because even over-large Kennel Club breeds can negotiate the tunnels with ease, dogs can come to no harm while working, and no digging is required. Since Border Terriers are "essentially working terriers", many Border Terrier owners consider it important to test and develop their dogs' instinct. These tests also provide great satisfaction for the dogs. The American Working Terrier Association (AWTA) does conduct "trials"; where the dogs instincts are tested, and then judged to determine a "Best of Breed" Earthdog. These trials are also run similar as described below.

History

The Border Terrier originates in, and takes its name from the Scottish borders. Their original purpose was to bolt foxes which had gone to ground. They were also used to kill rodents, but they have been used to hunt otters and badgers too.
The first Kennel Club Border Terrier ever registered was The Moss Trooper, a dog sired by Jacob Robinson's Chip in 1912 and registered in the Kennel Club's Any Other Variety listing in 1913. The Border Terrier was rejected for formal Kennel Club recognition in 1914, but won its slot in 1920, with the first standard being written by Jacob Robinson and John Dodd. Jasper Dodd was made first President of the Club.

Description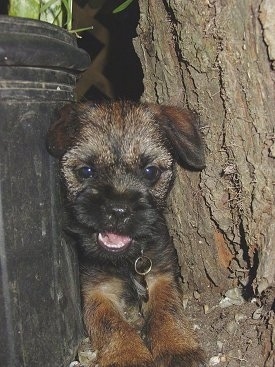 The Border Terrier is a small, medium boned sturdy dog. The shoulders and body are narrow. The space between the eyes is relatively wide. The muzzle is short and usually dark, with a slight moderately broad stop. The nose is black. The teeth are strong with a scissors bite. The small ears are V-shaped, set on the side of the head, dropping forward close to the cheeks and are usually dark in color. The medium sized eyes are dark hazel in color. The front legs are straight and not too heavy. The medium sized tail is thicker at the base and tapers. Border Terriers have a short, dense, wiry, double coat that comes in red, grizzle and tan, blue and tan, or wheaten. There may be a small amount of white on the chest. A dark muzzle is desired in the show ring.

Temperament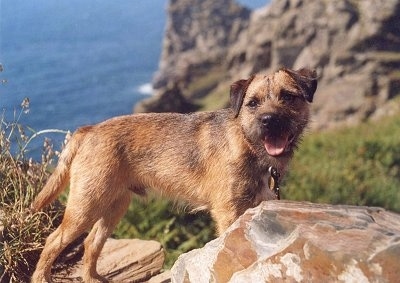 The Border Terrier is an alert, bold little hunter. Very agile they are willing to squeeze through a narrow space to capture any quarry that may be on the other side. Lively, they enjoy playing with children. Affectionate, mild-mannered aiming to please their owners making them easy to train. This sturdy, scruffy, little terrier is a good watchdog, and may bark, but is not aggressive. Be sure to socialize them well. Puppies should be made accustomed to loud noises while they are still young to avoid excessive timidity. Puppies and adolescent Border Terriers are very active, but will mellow as an adult provided they get plenty of exercise. Border Terriers like to dig. Additional reinforcements along the bottom of fences is a good idea. Good with family cats if socialized with them, however this hunting terrier has strong instincts and should not be trusted with non-canine pets such as hamsters, guinea pigs, rabbits, and birds. Be sure you are always your dogs firm, confident, consistent pack leader, to avoid Small Dog Syndrome, and separation anxiety.


Height, Weight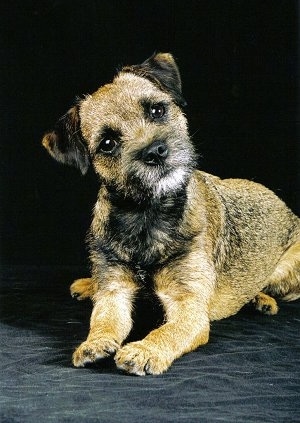 Height: Dogs 13-16 inches (33-41cm) Bitches 11-14 inches (28-36cm)
Weight: Dogs 13-16 pounds (6-7kg) Bitches 11-14 pounds (5-6kg)

Health Problems

Prone to Canine Epileptoid Cramping Syndrome - CECS also known as "Spike's Disease" is a recently recognized canine health problem and hereditary canine disease in Border Terriers. It can sometimes get confused with canine epilepsy. It is also being considered to be a metabolic, neurological or muscle disorder.

Living Conditions

The Border Terrier will do okay in an apartment if it is sufficiently exercised. They are moderately inactive indoors and a small yard is sufficient.

Exercise

Border Terriers were bred to hunt and have great vitality and stamina. They need plenty of exercise, which includes a long daily walk.

Life Expectancy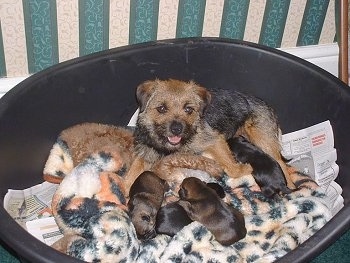 About 15 or more years

Litter Size

2 - 8 puppies - Average 4 - 5

Grooming

The durable, wiry coat needs to be brushed weekly and professionally groomed twice a year. The object is a completely natural look. The Border Terrier sheds little to no hair and is good for allergy sufferers. Bathe only when necessary.

Origin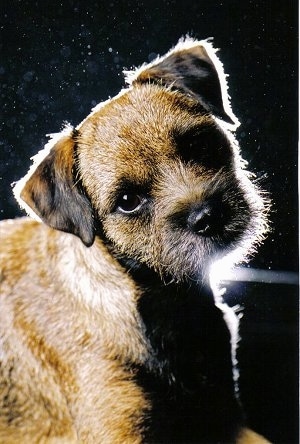 It was in the Cheviot Hills near the border of England and Scotland that the Border Terrier was first bred. The breed is possibly one of the oldest types of terriers in Great Britain. The farmers had problems with foxes killing their stock and the Border Terrier worked alongside them to drive the fox out of their dens and kill them. They were small enough to follow a fox into the ground but big enough to keep up with the horses. The dogs were often not fed by the farmers in hopes it would make their prey drive even higher and they had to hunt to survive. Along with fox they hunted otters, marten, the fierce badger, mice and rats. Today while the Border Terrier is mostly a companion dog, he can still serve as a fine farm dog, helping to control vermin. The Border Terrier was recognized by the British Kennel Club in 1920 and by the American Kennel Club in 1930. Some of the Border Terrier's talents include: hunting, tracking, watchdog, agility, competitive obedience, and performing tricks.